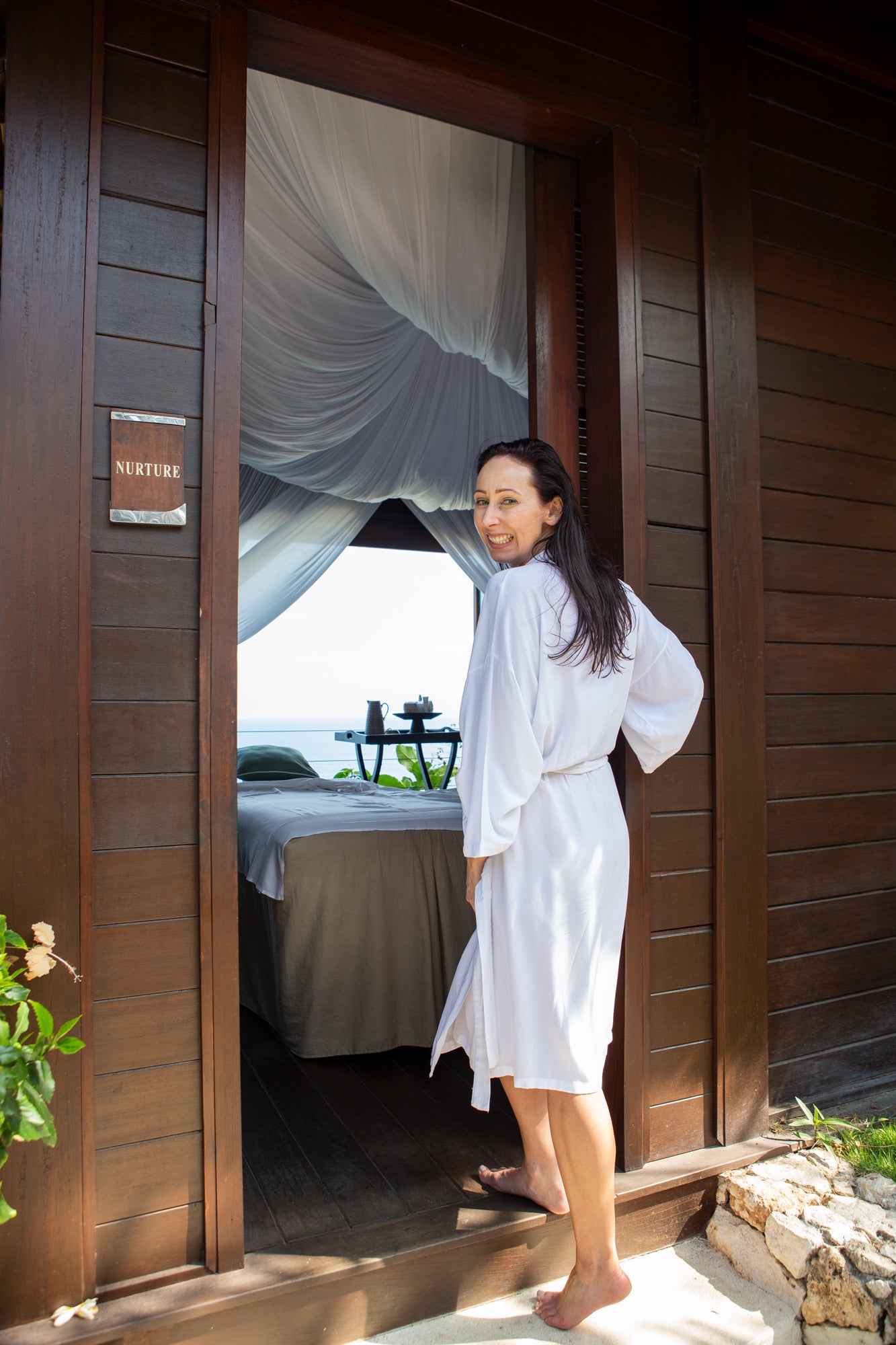 Hi,

It's Naomi here- the Founder of iKOU!

I've been creating products and spa rituals for luxury spas for over 15 years now.

These are based on my passion for global spa travel and creating products that change the way you feel.

I don't know if you realise, but my original passion for spa life started very humbly- with home spa rituals?
I grew up in the country, and there wasn't much to do in my teenage years- combined with this I also suffered from eczema,
all over my face from the age of 11.

My personal life circumstance led me to explore the world of home spa and aromatherapy, creating rituals that helped me feel calm
when my skin felt stressed and that gave a boost to my self-confidence through feeling nurtured and nourished.

As I got older and started to travel extensively throughout Asia, I fell in love with the world of global spa-
eventually creating my own brand "iKOU" with my partner Paul in 2007.

Last month, I felt inspired to give our stores an overhaul of our signage and merchandising to help guide
all who visit to ask themselves a question that has been the foundation of iKOU for 15 years:




Our concept then guides you to locate the section of our store or website that helps connect you with the way you want to feel

It's a brave question to ask yourself because it acknowledges that sometimes we don't feel the way we want.

And my hope is that it reminds you that you have power to create positive change in your life!

On the back of this idea- I felt moved to write this blog series to share deeper knowledge of these home spa rituals including
the knowledge I have built over my many years in the world of spa- techniques, aromatherapy
benefits and sequences to guide you to create harmony.

This series will be different to the blogs I've written in the past that have covered all aspects of health and
wellbeing- spa rituals, food, exercise, gratitude etc.

This will simply be focused on two specifics: The way we FEEL. Spa Rituals as a "remedy for modern life".

To prepare yourself to follow this series, there's one thing you can do.

CREATE SPACE FOR "YOU" EACH WEEK:

I invite you to create a space in your schedule for an hour each week to dedicate to a home spa ritual.
Choose a day and time that can become a regular pattern for your spa ritual. Give the day a name so you remember it.
Eg Mine is "Sunday Spa Day", and my time is late afternoon.

CREATING THE RITUAL:

Before you choose the best spa ritual for your needs, I invite you to ask yourself two questions.

How am I feeling? How do I want to feel?

Over the next 4 blogs to follow I will help you create a series of spa rituals that you can draw on to balance your varied needs.

I hope you love learning about the rituals you can enjoy at home as a remedy for modern life!

x Naomi